Plant Diversity in the GCFR: From Genomes to Biomes
 Welcome to the homepage of the Dimensions of Biodiversity in South Africa meeting to be held in Cape Town, South Africa from 20 to 22 July.
If you would like to register for the symposium (required), please click here. You can also register a poster here. Posters will be set up at the first tea break on day two of the conference.
Workshops will be held on 22 July.
Registration for the conference is due by July 1st.
To view the symposium schedule, please click here.
If you have any questions, please don't hesitate to contact us at zadimensions@gmail.com.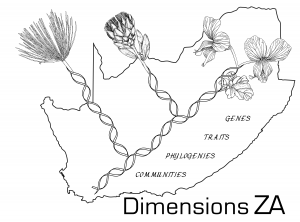 Download a copy of the conference poster here: DimZA_symposium_Jul2015